Recommended Books
Having a reference book at hand when starting a new hobby is always a great thing, it can provide quick answers and inspire your imagination for new project ideas. With this in mind we have created a list of books that we believe would make an excellent addition to any cross stitchers reading list.
Both of our featured books contain lots of great tips and trick to get you started out on the right path to quickly creating your first project as well as containing lots of new guides and patterns to inspire you for your next project.
Cross Stitch Made Easy
Cross Stitch Made Easy is a comprehensive modern book written with the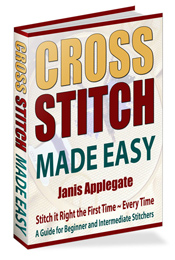 beginner cross stitcher in mind. The book covers all aspects of stitching at the beginner level from organizing your materials through to framing your completed project. Janis also provides help for intermediate stitchers in previously unknow areas of Cross Stitch - including how to complete your cross stitch project with edgings, matting, blocking or framing (either having it done professionally or by DIY), or how to master more advanced stitches, such as the lazy-daisy and the needlelace flower stitches. Janis Applegate combines her fantastic wealth of accumulated expertise of this fascinating craft. With 40 years of passionate and practical Cross Stitch experience, Janis has been able to help countless fellow stitchers become better at there craft through providing solutions to their stitching problems at leading Cross Stitch forums and through the hundreds of Cross Stitch articles she's written and had published across the internet.
Cross Stitching: Learn How to Cross Stitch Quickly With Proven Techniques and Simple Instruction (Volume 1)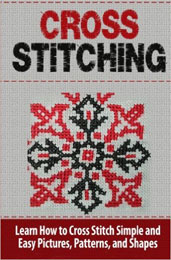 Learn How to Cross Stitch Simple and Easy Pictures, Patterns, and Shapes.
Cross stitch is a style of embroidery in which stitches are sewn inside a tiled pattern to form characters, letters or images. It is comparable to modern digital images created employing pixels. The earliest American example in this work is from the 1600's, but you will find likely European examples which tend to be much older.
Cross stitch embroidery was often utilized to personalize and embellish useful household items including napkins and dish cloths. Nevertheless, it evolved into uses pertaining to more decorative purposes, as well. It is now more regularly employed to create images and words on pillow covers and wall hangings. Because of the way the thread is anchored, it is generally not suitable for used on clothing.
There are several options for threading the needle, for commencing the piece, for working the specific stitches and also for finishing the piece. There is not so much a right and wrong way to stitch as there are "ways that may look the best" and "ways which might be easier, but do not look as good. "
The best way to start out cross stitch is the old-fashioned approach. Make your own pattern on an item of graph paper, practice each style of stitching and create a "sampler" pertaining to reference. A sampler is an item of cross stitch embroidery that was often produced by young girls who were first learning the craft in order to practice their stitching while in unison creating a reference card for the stitches they had learned. It had been often decorative, as well, presenting the alphabet, numbers 0-9, their name or even a simple picture.
Cross Stitching
Here Is A Preview Of What You'll Learn...
Cross Stitch History
Thread Basics
Fabric
Needle Basics
Common Stitches
How to Get Started
Tips and Tricks
Basic Patterns to Get You Started
Much, much more!
Click Here to Read Customer Reviews on Amazon
Cross Stitch Books
Last edited by
on